Silent Night
When you finish reading this short meditative story you might wonder how this little story applies to you. But just go back to the year 1818. That year probably means nothing to most reading this article. Now add two names to the year 1818, the name of Father Mohr and Franz Gruber, an organist and musician. Put them all together, the year 1818, Father Mohr, Franz Gruber and Austria and you have the background and birth of one of the most famous Christmas carols ever written, "Silent Night."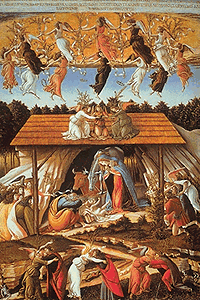 Fr. Mohr wrote the words. Franz Gruber contributed the music. Neither one ever thought the song would become a favorite all over the world. Neither one ever made a penny on what they composed.
The song was originally written with the idea that the great organ in the Church would accompany the words and music. But when Father Mohr and Franz Gruber went to the Church to play their song on the magnificent Church organ, the organ was broken. No matter what they did to repair it, it just would not work. The Christmas Mass was to start in a few hours. The crowds would be large. And so the two men took the old guitar they had been using for years and for the first time played their song, "Silent Night" for the packed Church. Silent Night from that Christmas Mass began to spread all over the world. No one ever knew the chaos that was experienced when the organ did not work. But no one ever anticipated that from these two unknown men, from their unknown town in Austria, this song would generate so much peace and serenity.
It would be easy to draw many meditative lessons from this song. The chaos of doing without the beautiful organ to being relegated to the use of their old guitar. So many circumstances could have caused the delay in singing Silent Night. The greatest spiritual lessons really do not come from the birth and the background of Christ. It is a meditation filled with peace and serenity about the entrance of Christ into the world. It is a song, unlike most Christmas carols, that has special meaning in the life of just about every person who has heard or sung it. One of the phrases of the song, "Jesus Lord at thy birth", summarizes not just the words and the music, but what Christmas is all about. Silent night is more than just a hymn. Whoever listens to it, wherever it is played, one point is definite. Silent Night brings Christ into everyone's heart.
When the angels had left them
and gone into heaven,
the shepherds . . .
went with haste and found
Mary and Joseph,
and the child lying in the manger.
--Luke 2:15-6
************************************

Silent Night, Holy Night

Silent night.
Holy night.
All is calm,
all is bright;
Round yon virgin mother and Child.
Holy Infant so tender and mild,
Sleep in heavenly peace.

Silent night.
Holy night.
Shepherds quake
at the sight.
Glories stream from heaven afar,
Heavenly hosts sing Alleluia.
Christ the Savior is born,
Christ the Savior is born.

Silent night.
Holy night.
Son of God,
Love's pure light.
Radiant beams from Thy holy face,
with the dawn of redeeming grace,
Jesus, Lord, at Thy birth,
Jesus, Lord, at Thy birth.

************************************
When the shepherds saw the child,
they made known what had been
told them about him,
and all who heard it
were amazed.
But Mary
treasured all their words
and pondered them in her heart.
--Luke 2:19
---