Introduction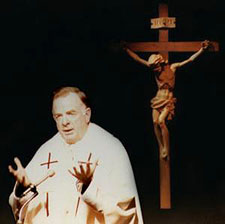 by the Rev. Mark Connolly
Throughout the course of our lives, we meet many different people. Because of the interest in the stock market, some have shares in General Electric, some have shares in General Motors. But just about everyone I know has a share of general trouble. And because trouble hits us in different forms, small packages and big packages, I would like to suggest a few qualities that will enable us to cope with whatever trouble which comes into our lives.
The first quality, if you develop a sense of faith, especially in the words of Christ, you know he is going to see you through every crisis. When Christ said be confident in me and I will help you overcome the world, he was not talking about the insurmountable problems of the earth, but the human problems of life. This is God's son who could not lie or deceive. He told us to deepen our faith. Faith does not mean that we get a now answer to every problem. Faith helps us to live with the unanswered problems of our life. We simply know through faith that God will never abandon us.
The second quality to help us cope with the difficulties of life is hope. All we have to do in history is look back at the life of Christ. From the darkness of Good Friday came the joy of Easter Sunday. When you look at the lives of other people in the past, we have benefited from the tragedies of some of their lives. Beethoven when he was going deaf gave us one of the greatest symphonies. Edison when he was going deaf gave us some of the greatest inventions. Hope, when it is directed toward God, does not give us a solution to each problem, hope helps us to live with the unresolved.
The third quality to help us cope with the problems of life, total and personal trust in God. Trust is that virtue that teaches us to say, not my will be done, o God, but your will. Trust enables us to develop that sense of acceptance and conformity to the will of God on earth. The person who has true spirituality knows that he becomes more like Christ when personal trust becomes something he lives every day.
If you study the history of alcoholics anonymous, you will find that they have to live on faith, hope and trust and believe in a higher power. All of us have to face every day, those 24 hours not knowing what might be ahead of us. Life does become more meaningful when we have a sense of faith, hope and a sense of trust that helps us confront the problems of life and help us stay connected with God.