Santa's Bonus
As I revered the relics of that holy personage, I mused over how much of him remains other than his remains. Clement Clarke Moore's A Visit from St. Nicholas created an image of Saint Nicholas devoid of his roots in what is now modern day Turkey and representative of the saint's popular image in northern Europe.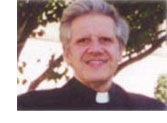 Finally, an artist's depiction of Santa Claus in an old advertisement for Coca Cola (circa 1930) cemented his image in the minds of young and old alike. It is not, however, that jolly portrait of this fourth-century saint, but rather his enduring spirit within the hearts and minds of vast populations of both Christians and non-Christians that marks his legacy. Enthusiasm over Santa Claus, I believe, evidences inherent qualities of our human character for the nurturing of children, caring for family and friends, concern for the disadvantaged, and the belief that there resides at the core of creation a warm and loving Providence.
The celebration of the Birth of Christ has issued varied societal and familial rituals that, as once said, "provides a bridge between the inner and outer worlds" and "creates a context of connecting to our souls." Our rituals formulate and externalize the deepest truths and needs of the human spirit. While some may assault the notion of Santa Claus with iconoclastic fervor, it would be best to celebrate the variety of representations of this very real saint and his eternal spirit that calls us to embrace and value one another.
A number of years ago there was a popular Christmas figurine of Santa Claus kneeling before the Christ child. That scene embodies the essential Christmas message: our love and worship of Christ defines our living, leads us to salvation, and rouses us, as it did Saint Nicholas, to do the work of Christ. Jesus beckons us to hear the word of God and to act on it. The earthly life and the eternal inspiration of Saint Nicholas renders him an exemplar of this teaching. Unfailing faith in God, dauntless courage, and complete devotion to the service of his flock were the salient features of his character. It is the persistent dominance of this Christian charity that in my view has not received adequate consideration. Countless millions have been inspired by his life.
Bishop Nicholas of Myra lives and continues to touch the hearts of good people throughout the world. His love for his people and his anonymous generosity that formed the foundation of the living tradition we keep today – it must be remembered – was fashioned by the love and devotion Saint Nicholas had for Jesus Christ. The presence of Santa Claus expresses itself in our love for Christ reflect in our love for one another. Whether or not snowy roofs betray the sound of a sleigh and reindeer, let there be an abundant manifestation of the love of Christ in the homes they shelter. I extend to you and your loved ones a blessed and merry Christmas. Ho! Ho! Ho!