A Special Prayer in the Aftermath
of Our National Tragedy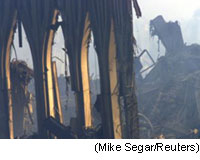 All of us reading this page know of the terrorist attack that took place in the World Trade Center, the Pentagon and the crash in Pennsylvania. Approximately 5,000 people or more have lost their lives.
The editor and staff of Spirituality for Today extend our condolences, sympathy and prayers, not only to the victims, but to the families. We hope and pray that the grace of God will help everyone during this terrible time of loss and tragedy.
The Most Reverend William E. Lori, Bishop of Bridgeport, has asked that this prayer be said in the Masses for the victims and their families:
Lord, our God
you are always faithful
and quick to show mercy.
Our brothers and sisters
were suddenly and violently taken from us.
Come swiftly to their aid,
have mercy on them,
and comfort their families and friends
by the power and protection of the cross.

We ask this through
our Lord Jesus Christ,
your Son,
who lives and reigns with you
and the Holy Spirit,
one God,
for ever and ever.