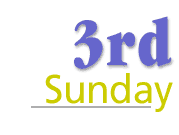 Third Sunday of Lent
- Matthew 21:18-22

In the morning, as he was returning to the city, he was hungry. And seeing a fig tree by the wayside he went to it, and found nothing on it but leaves only. And he said to it, "May no fruit ever come from you again!" And the fig tree withered at once. When the disciples saw it they marveled, saying, "How did the fig tree wither at once?" And Jesus answered them, "Truly, I say to you, if you have faith and never doubt, you will not only do what has been done to the fig tree, but even if you say to this mountain, 'Be taken up and cast into the sea,' it will be done. And whatever you ask in prayer, you will receive, if you have faith.
* * * * *
The Miracle
He was walking from Bethany to Jerusalem,
Brooding over sad premonitions.
The sun scorched the slope's prickly shrubs,
No smoke was rising over a nearby hut,
The air was hot and the reeds motionless,
And the calm of the Dead Sea lay still.
And with a bitterness rivalling the sea's,
He walked with a small throng of clouds
Along a dusty road, to somebody's backyard,
On His way to a gathering of disciples.
And so immersed was He in His thoughts,
That the field, dejected, sent off a wormwood smell.
All was still. He stood alone in the midst of it,
While the land lay prostrate in swoon.
All became muddled; the heat, the desert,
The lizards, the springs, the streams.
A fig tree rose not too far off,
Fruitless, nothing but branches and leaves,
And He said to it: "Of what use are you?
What joy does your stupor bring me?
"I thirst and hunger, yet you stand barren,
My meeting you is joyless as granite.
O, how offensive and ungifted you are!
Remain as you are, then, till the end of time."
A tremor of condemnation ran through the tree,
Like a spark of lightening down a rod.
The fig tree was reduced to ashes.
If only a moment of freedom had been given
To the leaves, the branches, roots, trunk,
The laws of nature could have intervened.
But a miracle is a miracle, and a miracle is God.
When we're in confusion, in the midst of disorder,
It overtakes us instantly, by surprise.
- Boris Pasternak
- Translated from the Russian by Nina Kossman
From The Gospels in our Image, An Anthology of Twentieth-Century Poetry based on Biblical Texts