Suddenly, she heard a noise, like that of a strong wind, and she saw a bright light. In this light appeared the figure of a beautiful lady. The lady said no words to the young French girl, but she made one sign, the sign of the Cross. Taking courage, the young girl took Rosary beads from her pocket and began to pray. Then, the lady vanished.
The lady, of course, was Our Lady and the young girl was St. Bernadette, and their meeting place was Lourdes. Our Lady appeared to St. Bernadette several times, and she gave her some messages to be passed along to the rest of us. Many of those messages remind Christians of the need to do penance for our sins. In addition, Our Lady asked that a chapel be built in that location - a chapel that is today a famous pilgrimage destination.
Our Lady also gave St. Bernadette a prophecy about her own life, and it is a prophecy that applies to you and me as well. She said to the young girl, "I do not promise you happiness in this world, but in the next." Naturally, Our Lady's prophecy proved true for Bernadette, who suffered from asthma and other painful illnesses. She died when she was only thirty-five.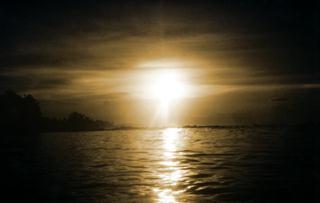 The desire to be happy is good. It is after all, why God made us. Some of you may remember one of the first questions in the Baltimore Catechism, "Why did God make us?" Answer: "god made us to show forth His goodness and to share with us His everlasting happiness in Heaven." Saint Paul says this: "We have our citizenship in heaven; it is from there that we await the coming of Our Lord Jesus Christ" (Phil 3:20). Again, he says, "For here we have no lasting city, but we seek the city which is to come" (Heb 13:14). Saint Peter writes, "Conduct yourselves reverently during your sojourn in a strange land" (1 Pet 1:17).
Now while we live in this "strange land" where we have "no lasting city," should we prepare to be always of generally unhappy? Of course not. In spite of her suffering, Saint Bernadette was a cheerful and happy woman who gave much joy and love to those around her. But we should not expect that finite things - to include other human beings - could satisfy our infinite desire to be happy. Our Lord Himself knew that we would try to substitute worldly things for heavenly things, and He warned us many times not to do so.
I want to refer back to what Our Lady did when she first spoke to Saint Bernadette: she made the sign of the Cross. If we examine Our Lady's words and actions here, we can discover a hidden message of consolation. Jesus said that the key to unlocking the joy of Heaven, not only for Him but also for us, is the Cross. Jesus commanded His followers not simply to tolerate suffering, but to embrace it and so to share in the heavenly work entrusted to Him by His Father.
Within a glass and gold reliquary in a French town called "Nevers," you can see the incorrupt body of Saint Bernadette. She looks as though she is asleep, and her face is very serene, very peaceful. I take that as a sign that Our Lady kept her promise.